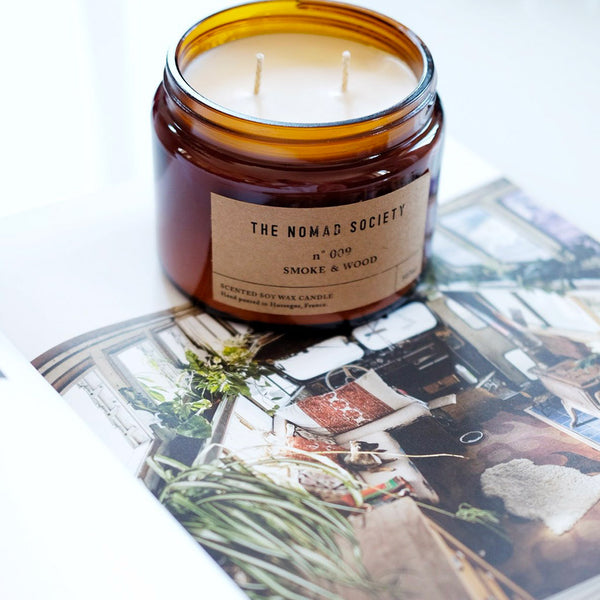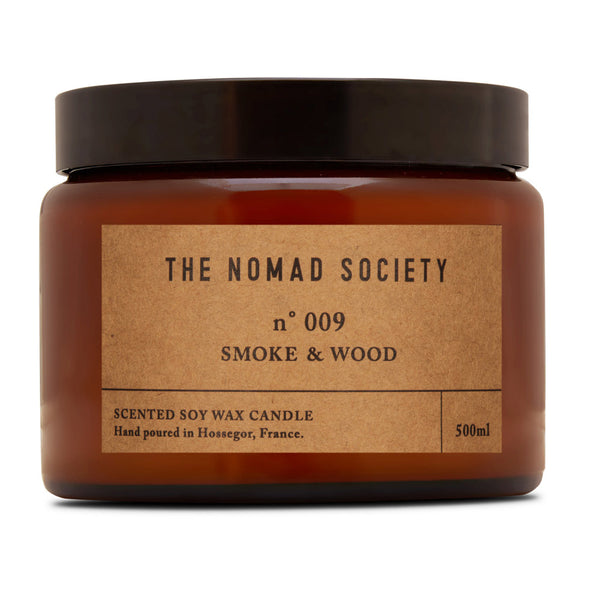 SMOKE & WOOD Scented Soy Candle - 500ml
Designed for the free spirited souls who love to roam.
Taking you back to the woods. Days spent hiking through the Pyrenees and nights spent by a log fire. 100% natural vegan candle inspired by nature.
Campfire inspired candle. Rich strong scent of smokey charred wood, its truly reminiscent of an open fire. Made by hand with nothing but essential oils, plants based soy wax, natural cotton wick and an amber glass jar for a clean burning candle
 Our collection of hand poured scented soy candles embrace our nomadic lifestyles. We hand pour in small batches, taking pride in using no mass production in the making of any of our products. All our candles are phthalate free.
The Nomad Society range of scented soy wax candles are hand poured in Hossegor, France. They feature an amber glass jar, twist on black lid and a natural cotton core wick for a cleaner burn.
All our soy wax is 100% from sustainable sources.
Large double wick candle: 500ml, 10.5cm diameter (approx burn time 85 hours)

Once your candle has burnt away, the beautiful amber glass jar can be re-used with a tea light to continue adding a warming glow to your home or they make sweet plant pots.